Guilford's Good Body Products Now USDA Organic Certified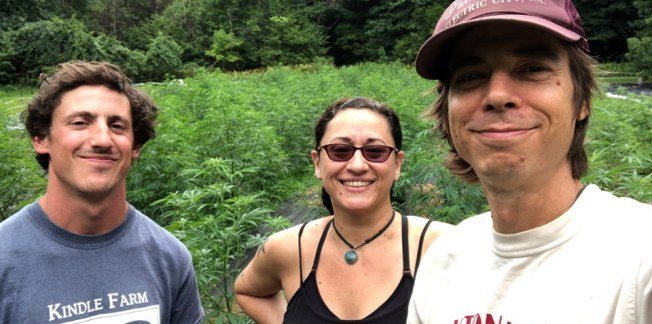 FOR IMMEDIATE RELEASE
GOOD BODY PRODUCTS NOW USDA CERTIFIED ORGANIC
August 2019
Good Body Products, Guilford, VT —is very proud to announce they are now USDA Certified Organic for both farm operations as well as processing and manufacturing. They are among a handful of companies in Vermont to be licensed for both hemp farming as well as the manufacture of CBD topicals and oils. Good Body Products is a family-owned operation focused on organic growing practices with a focus on medicinal plants, including high-CBD hemp for their award-winning products.
Founded by long time partners Trish and Chris Thomas, the team has been on a 20+ year journey of learning and practicing herbal medicine. The company supplements their own farm's organic botanicals with other certified-organic ingredient sources and manufactures in small batches to ensure the highest quality products possible. GBPs' therapeutic topical products have become standards in many homes across the nation.
Good Body Products' strive for excellence is evident in their best-selling CBD-products:
• USDA certified organic, Vermont-grown hemp
• Certified organic supercritical C02 CBD-extraction
• Full spectrum/whole plant CBD extracts with terpenes
• Tested for quality, levels, and contaminants
• THC <0.3%
"We are thrilled to finally be certified organic in our growing, processing, and manufacturing. It's a big step for us—the result of a lot of hard work and an important goal achieved." says Trish Thomas.
Located on a 10-acre plot of land along the green river in Guilford, VT, Good Body Products grows high-quality CBD-hemp as well as lavender, rosemary, St. John's wort, calendula, comfrey, lemon balm, and many more, all used in their formulations.
"We are super proud to add an additional layer of assurance to our customers by having the USDA seal on our products, especially those that contain CBD." said partner Chris Thomas.
If you're looking for Good Body Products locally you can find them at the Brattleboro Area Farmers' Market every Saturday year around, the Brattleboro Food Co-op, The Vermont Hempicurean, Ceres Wellness, Sojourns Community Health Clinic and many other retailers throughout the Northeast and beyond. On the internet at www.goodbodyproducts.com.